Let's Take A Look at Exactly What Search Engine Results Are.
Sitting in my office in Jupiter Florida I have typed in "pizza" to Google.
The results are pictured below:
---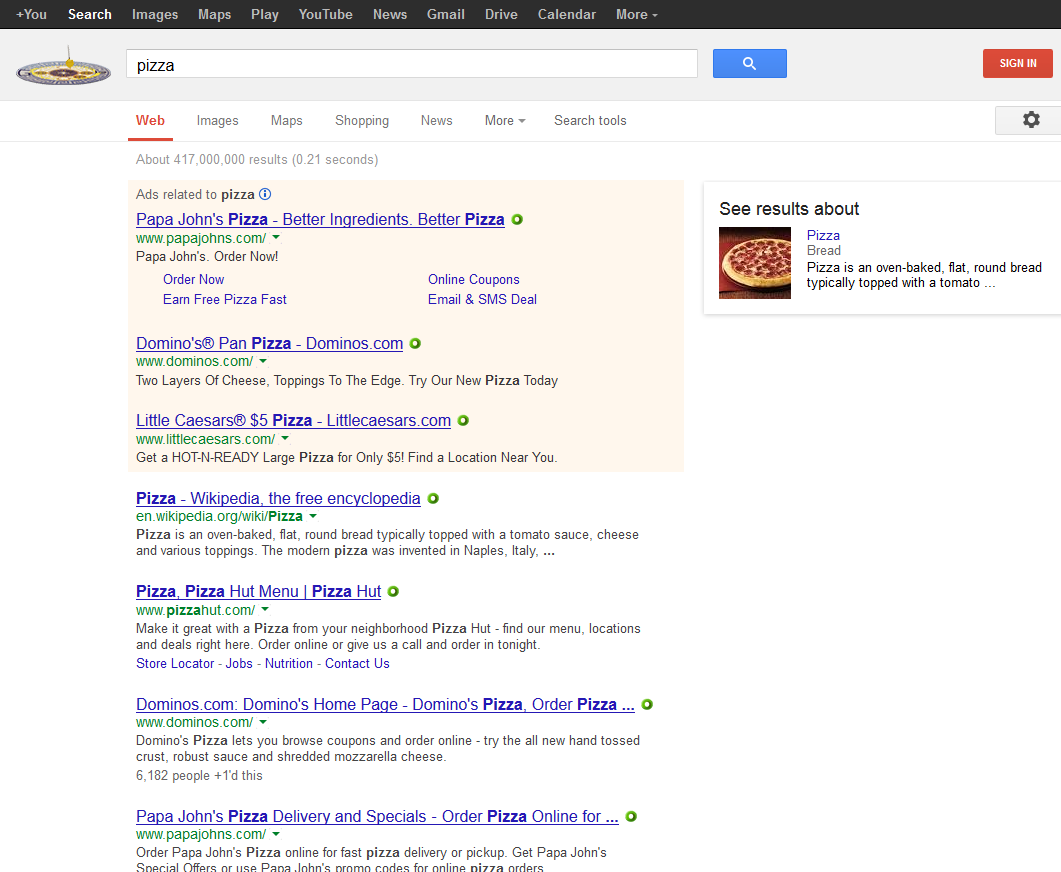 Search Engine Results Page
Papa John's, Domino's and Little Caesars are one, two and three in the search results and are shaded in yellow. The yellow shading indicates that these results are paid placements known as pay per click advertising. There is nothing natural or organic about these results. They are there because they paid to be there and every time someone clicks on those links it costs the pizza company money.
Wikipedia's definition of what exactly a pizza is comes next. This is an organic search engine result and determined by what the search engine's algorithm thinks you want to see when you typed in "pizza".
Pizza Hut is then 2nd in natural or organic results. Does this mean they have the best pizza? Not in my opinion, but you may disagree. There are many reasons for this, but here are just a few:

The domain's age – Pizza Hut has been doing this a long time.
The quality of the code in the actual website.
The quality of the content in the website.
The fact that the word 'pizza' actually is part of their domain name.
Search Engine Optimization!
Some things we will never know.

Dominoes and Papa Johns then come up again organically

This tells us if you own a pizza shop, "pizza" should definitely be a keyword you target, but your competition is going to be high. It's very important for small business websites to optimize for LOCALIZED search results and take advantage of many of the neat features Google and other search engines have to offer. Lighthouse SEO and Design specializes in search engine optimization and we are here to help.
* It is important to note that results will CHANGE depending on your location at the time of the search, who is paying for AdWords, whether you are on a mobile device or not, the effects of Search Engine Optimization and many other factors.
Lighthouse SEO and Design…Search Engine Optimization, Internet Marketing and Website Design